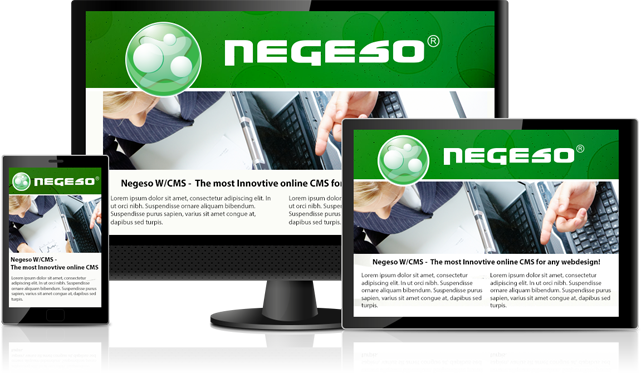 One cms —
many devices
Negeso W/CMS is one CMS that publishes to your website, webshop, tablet, smartphone and branded apps.
Websites that are built with Negeso W/CMS are fully compatible with smartphones and tablets. This includes: iPhone, iPad, Android, and Windows Phone. In addition to this, we also develop mobile apps. For example, we can make you an app that will allow you to post news or messages on your website from your smartphone. Or we can build you an app that allows mobile shopping. The Negeso Webshop App will be labelled with your brand. And with the use of QR codes, this will increase the print-to-line conversion.
Negeso uses the most innovative CMS to develop your webdesign and build your website.
We always work with fixed prices, get an online quote now!
Time to market & Efficiency
Developing a stand alone application for each channel is not time and cost effective. It will be expensive to manage content because you will need to publish content multiple times to each channel. With Negeso W/CMS, you will not have this problem. For example, with Negeso W/CMS, your website and webshop are based on the same content management system: it is one integrated system. Another example is our Social Media Push connectors, with which you can publish news to your website and social media platforms without having to log in there.
Single data base
By using an adaptive CMS you will have a single data base consisting of all your content and member's profiles. For each member there is exactly one encompassing profile. Utilizing a single data base, there is no need for expensive and complicate integration of different application databases. Having a single member profile for each of your members with all his or her information (name, address, mobile phone number, Twitter name, Facebook name, LinkedIn name and interests) and the possibility to communicate and interact with that member across all his or her (mobile) devices and apps, opens up very powerful possibilities.
Possibilities
Having a single adaptive CMS with a single data base opens possibilities that are impossible to achieve when using separate applications.
| | |
| --- | --- |
| | Personalized content: You can serve personalized content to your visitors, based on their interests or previous behaviour. For example, by letting us develop an app, via which you can push messages to your users. With the Behavioral Targeting Module of Negeso W/CMS, your system will learn automatically about your (anonymous and member) visitor's interests and will display content according to their interests that your website or app has learned automatically. |
| | Single unique URLs: Each of your content items (page, product, news item,…) has got a single unique worldwide address across all devices. For example, from your CMS, you mail an HTML e-mail newsletter to your subscribers with a back link to a special offer page on your website or webshop. The subscriber can click on the link in the mail received and visit your special offer page, regardless of the device he or she is using. If you have a different pc website and a different mobile website, this would not be possible. |
| | Single profile: Each member has got a single profile that can be utilized across all devices. This opens a whole range of possibilities. |
| | Negeso Webshop App: The Negeso Webshop App allows your customers to shop on your website. It allows them to view and purchase your products with their smartphone or tablet. The app will be labelled with your company name. Of course if your member logs in on your website's webshop, using the same profile, he or she will see the same order. |
| | Social Media News Push: Using the Negeso W/CMS News Module and social media connectors, you can publish a single news article in one go to your website and to social media channels such as Twitter, Facebook and LinkedIn, without having to log in on these apps or websites. |
| | Negeso News App: The Negeso News App allows you to publish news from your smartphone or tablet to your website (requires the New Module). |
| | Personalized Push: We can develop a branded app that enables you to push personalized messages and personalized special offers to your members. The app will be labelled with your company name. |
| | Learning and Marketing: You can collect information about the interests and actual behaviour of your target audiences in a single information base, without having to match up several information sources. |
| | Handling different devices effectively: Websites that are built with Negeso W/CMS are fully compatible with the browsers of smartphones and tablets. The Negeso W/CMS optional Device Capability Detection Module can automatically recognize the capabilities of the device, such as screen dimension or Flash being available, and adjusts the content accordingly, by applying a device specific page template on the same content, so no duplicate content to manage. For example, the Flipbook module can display a PDF document using Flash on pc or Android, but using a non-Flash interface on an iPhone. By using a Responsive Webdesign you will be able to optimize the webdesign to a wide range of mobile and desktop devices. |
| | QR codes: A standard function in Negeso W/CMS. With these codes, you can guide mobile users from print to your website and app. This will increase the print-to-line conversion. |
| | Integrated HTML e-mail newsletter module: With Negeso W/CMS, visitors can subscribe to your website. You will be able to send HTML e-mail newsletters using the CMS. |
| | E-mail to mobile devices: The Negeso e-mail services are compatible with smartphones and tablets. You can send and receive e-mails on your pc, smartphone and tablet. |





Average rating
5
/
5
based on
250
reviews.
Review
Willy Brekelmans
"Size does matter!"
Negeso

"Very versatile!"

5




"

It does not matter on which device you look at our website, it always looks very professional!"




Theo Meesters

Negeso

"Simply one database!"

5




"

All our data and user profiles are in one database. It does not matter to which channel we publish. Very user friendly!"




Irene van Zetten

Negeso

"Very cost effective!"

5




"

Negeso has built for us a mobile app integrated with our website's news. News is being published on all mobile devices. Very innovative!"




Lucas Pijnenburg
Special offers
Buy your domain at Negeso: