How We Design Your Website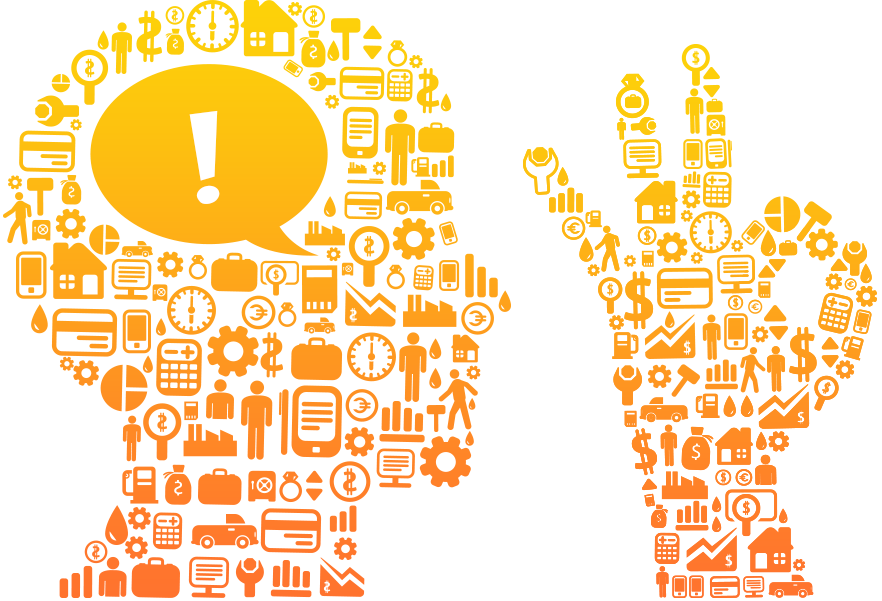 Webdesign Trends
What's more important for a company than having a website? An appealing website that is easy to read and to navigate, and that not only informs, but also convinces and fascinates visitors. Nowadays, customers no longer want to simply read a website. Experiencing a website – that's what they are looking for. They want the total package, with emphasis on visual and auditory user experience. In order to fulfill these wishes, a classic web design is no longer sufficient. The time in which a dropdown menu was the website's eye-catcher is over. Websites have to be much more original, colorful and effective these days. But what elements can ensure this?
Parallax Scrolling
One of the most important trends in today's web design is called 'parallax scrolling'. This means that a website's content is offered with different speeds. The background is moving slightly slower than the foreground, because of which a 3D effect is created. The smooth transitions, the animations, the visual effects and the graphics give website users a unique and interactive experience. Less clicking and more scrolling is a side effect of this technique. Due to parallax scrolling, website users will be guided through the website and will no longer visit every web page separately. An advantage of this effect is that you and your company can determine which track the visitors will follow on your website.
Minimalist Design
A simple and especially effective web design. With a minimalist design, the website content is presented in a thoughtful way. You indicate what your company is all about and you highlight the essential information. A nice font, carefully chosen color combinations and sufficient white space are important factors that make the design look attractive. Less is more.
Flat Design
Clear and flat colors, simple graphics and 2D effects. These are the most essential elements of a flat design. An aspect of which the functional purpose isn't immediately clear, will only distract the website visitors and should therefore be removed from the website. It is clear that the saying 'less is more' also counts for this type of design. Although a flat design makes use of the basics, it remains visually very appealing.
Video Engagement
This trend implies that you engage website users by offering them powerful visual content. Today, more and more emphasis is placed on the visual and auditory aspects of a website, because what one sees and hears will be remembered better than what one reads. Videos are the ideal tool to inform and convince website users in a fun, creative and remarkable way. Videos take users by the hand and lead them through your entire website.
Crisp Card Design
Nowadays, many web designers make the mistake of cramming as much information as possible into a website. Due to this information overload not only website users, but also the most essential information about your company will get lost. Crisp cards will give your (potential) customers the right information, in the right quantity, at the right time. This way, your products and services will be presented in a careful, stepwise manner.
Ghost Buttons
Never heard of ghost buttons? You've probably seen them, though. Ghost buttons are transparent, "empty" buttons on a website, often shaped in the form of a square or a rectangle and often bordered by a very thin line. They are usually compared to a ghost, because they are transparent, but nevertheless immediately catch your eye. Although ghost buttons literally blend into the background, their design makes them very inviting to click on. However, ghost buttons aren't appropriate for every website. They are best used in combination with a minimalist or flat design.
Video Background
A video, the size of a display screen, that is used as a website's background, has an overwhelming visual impact. Website users no longer look at a static picture and will immediately be captivated by the story that is told in the video. This technique allows web designers to subtly change the website's mood and atmosphere, so it remains a pleasure for users to browse through the website.
Infographics
The so-called informative illustrations. Think about traffic signs, signposts, graphs and maps. As mentioned before, most people of today are strongly engaged by powerful visual content. Scientific research has shown that infographics increase people's willingness to read a text. Moreover, we only need a tenth of a second to understand an infographic and we are more likely to believe a text with infographics than a text without. In addition, the illustrations counter the huge amount of information we have to process daily. It is clear, infographics offer nothing but advantages.
Go Responsive, Now!
The time in which people only surfed the internet by using a desktop or laptop is over. Nowadays, more and more mobile devices such as tablets and smart phones are used for this purpose. A responsive web design makes your website look good on any device, no matter how small or big the display, because the website's structure automatically adapts itself to (the display of) the device. With a responsive web design, text and images will always be displayed correctly, which assures your customers of a unique user experience.
We take care of your web design
What is a website design?
A 'web design' is the general appearance or the basic layout of a website. The font, the different color combinations, the images, the positioning of the elements, etc. A web design is usually developed even before the website is built, because website designers should have an overall picture of what exactly needs to be built.

On the one hand, you can fully leave the development of your web design to us. On the other hand, you can present us with a web design. During the development of the web design, we will take your suggestions, wishes and examples into account.
How does it exactly work?
Everything we design is unique and handmade. Our web designers don't work with standard web design templates, but create templates that are just right for you and your business. The entire process starts with listening to what matters and what's important for you. On the basis of an extensive questionnaire we get to know more about your company, your mission, your strengths, your corporate identity and your preferences in terms of design. All this information forms the basis of the web design. After one of our web designers has developed a first draft, it will be presented to you. We will take your remarks and comments into account and will adapt the web design, until you are satisfied with the result. Thereafter, the other pages will be designed in the same way. This means we won't proceed to the next phase until you have approved the results of the current phase.

Each type of web page requires a different web design. What often occurs, is that the web pages on a website look very different. This is the case when the different web pages have different goals. We create a web page template for each type of page. If you have multiple business units or product lines, you will need multiple designs and templates. If you don't have a corporate identity yet, we can design one for you with the Corporate Identity Module at a fixed price. This implies a logo, writing paper, envelopes and business cards. You will receive the designed corporate identity ready to print.
Are the web designs appropriate for all devices?
| | |
| --- | --- |
| | Our web designs and websites guarantee an optimal view on both classic devices such as desktops and laptops, and mobile devices such as smartphones and tablets. We take the fact into account that mobile devices have a touch screen, and that websites will therefore be visited via touch movement. Tiles, for example, offer a clear and easy navigation on touch screens. Web designs and websites should also take the absence of certain features into account, such as a cursor. If you move a cursor over a clickable word, it's likely that the color of the word and the shape of the cursor will change. These are the so-called hover effects. Since the combination of a cursor and a touch screen is out of question, these hover effects are not possible. This means that in this case it should visually immediately become clear which elements are clickable and which elements are not. |





Average rating

5

/5 based on 250 reviews.
Review:
Chris de Jong
"One website for all devices!"
Negeso

"Very versatile!"

5




"

Whether you use a smartphone, iPad or PC to look at our website, it looks great!

"




Ilse Marken-van de Ven

Negeso

"Professional web design, exactly what we wanted!"

5




"

The first design proposal made us enthousiastic right away. Negeso listened very well and created a design that represents everything we stand for! Class!

"




Marieke de Bonth

Negeso

"Fast results!"

5




"

The design intake enabled us to thouroughly think about our requirements. The resulting web design was, after a few minor adjustements, perfect!

"




Thimo de Bakker
Our Offers
Buy your domain at Negeso: